| | | |
| --- | --- | --- |
| | Attention | Topic was automatically imported from the old Question2Answer platform. |
| | Asked By | Zylann |
| | Old Version | Published before Godot 3 was released. |
I want to trigger a function when an object crosses the border of the level. So I used a StaticBody2D with a CollisionPolygon2D, with trigger set to true.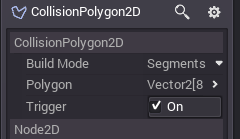 According to the documentation:
A trigger polygon detects collisions, but is otherwise unaffected by physics.
But, how do I trigger a function when an object crosses it?
I tried to connect a signal to the StaticBody2D but there is no "body_enter" signal…
I can detect the collision from all kinds of objects instead (ugh), but then, what is the
trigger
property for?
I think the problem is the staticbody2D with "body_enter" signal
puppetmaster- | 2016-06-20 08:13